If you are new to social and digital marketing, you're probably looking for great resources. Lucky for all of us, there are tons of fantastic, genuine people in the market who share tons of insights. Many of those people are on Facebook. These are a few of our faves…and, if you're looking for a place to get help, advice, and answers to questions, check out our Facebook group. It's a place where you can get honest advice from other social media professionals whenever you need it.
10 Best Social Media Facebook Pages to Follow

This page is run by Scott & Alison Strattem, whose motto is 'Stop Marketing, Start Engaging'. They've written 4 books all while running their website, podcast, and raising 5 kids. Scott and Alison have clients including Pepsi, Saks Fifth Avenue, IBM, Cirque du Soleil, and Microsoft. Scott was been named one of the Top 5 Social Media Influencers in the world by Forbes. We like this page because they speak plainly and give some great insights.
Ted Rubin describes himself as a 'Social Marketing Strategist, Keynote Speaker, Brand Evangelist & Acting CMO of Brand Innovators'. Besides having great taste in socks, Ted knows his stuff. He talks plainly, keeps things fun, and you'll leave his page with better knowledge of the current Social Media environment.
Sue and her team 'teach and empower businesses how to promote online so they will be more successful'. Sue B. Zimmerman is the real deal when it comes to business coaching, and if you are looking to learn how to become profitable with the use of Instagram, this is the page you need to watch.
Mari Smith's goal is "To educate and inspire businesses of all sizes to become a true SOCIAL BUSINESS. Social from the inside out. To make a profound, positive impact on the planet through the power of social media." Her page is great because she gives clear-cut, actionable items to help you optimize your social media efforts.
Kim Garst is a prominent Social Media Thought Leader and one of the leading experts on social media and digital marketing. She runs incredible social media conferences, but if you don't have the money to invest in the events, check out her Facebook page. She shares plenty of insights and tips that will make you a better Social Media Marketer.
Jaime Primak Sullivan is a Hollywood Publicist, Producer and Writer. She is the Creative Producer and Star of #cawfeetawk and Bravo's "Jersey Belle". She's great not just at dishing out business advice, but also at her cawfeetawk, where she gives entrepreneurs advice on life and balance. Jaime tells it like it is so you don't have to struggle.
Michael is the author of Platform: Get Noticed in a Noisy World (Thomas Nelson, 2012). This is a book for anyone trying to create visibility for themselves, their product, service, cause, or brand. Michael's page is great for budding entrepreneurs and solopreneurs because he dishes out great advice on how to run your business more effectively.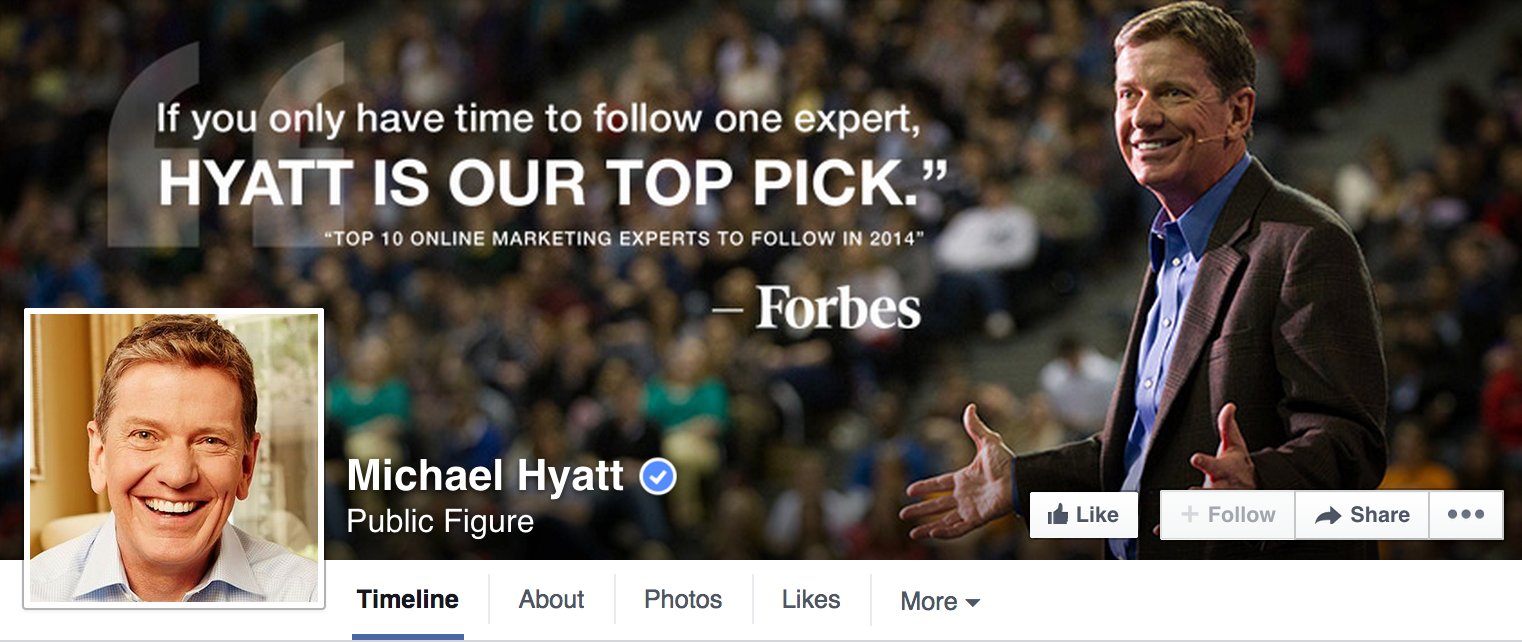 The name says it all. Jay Baer and his team will teach you how to convince and convert. They are more than just internet marketers, they are a leading social media & content strategy firm.
Their mission is to help us "navigate the constantly changing social media jungle."
Social Media Examiner is led by Michael Stelzner, who uses the page to promote their conference…but this does not mean that the page does not have value. This is exactly the opposite. Social Media Examiner's insights are clear and actionable. They conduct tons of well thought out interviews with Social  and Digital marketers that dive deep into strategy, tips and much more. This is a must follow if you consider yourself a serious SMM.
Yup, that's our page. Our goal is to keep you in the know about the most recent updates to all social networks, to give you great tips to optimize your social media accounts and to help you to actually see an ROI from the time and money you spend on SMM. Go ahead and check us out. We're waiting for you.