Beer is such a competitive industry. On top of that, the sales process takes time and personal relationships. Reps must visit their clients to make the sale, set up demos to educate the public, all while making sure that their items remain in the right spot at stores and restaurants so they can guarantee depletions. As such, it is up to the marketing and social media departments at breweries and distributors to use a strong Instagram strategy to help give their brand the most targeted eyes possible. This requires more than just cool pictures of the product. Instagram marketers focusing on beer need to work smart, set clear and measurable goals, to be consistent and to engage the community. They also need the right set of beer hashtags and the right strategy to ensure that they come up on the feed. Today we'll give you an optimized list of beer hashtags for Instagram, and we'll give you successful examples of how they are being used by some of the strongest beer brands out there.
Optimized Beer Hashtags for Instagram
Copy these optimized Beer Hashtags by clicking on the "copy" button on your iPhone, Android, iPad or PC. Save them to your smartphone and have them ready to post. 
#beer #beers #beerbelly #beer? #beerporn #beergeek #beerlovers #beernerd #beerme #beerbeerbeer #beerlove #beerlife #beerpics #beergram #beertography #craftbeer #beerstagram #beerenthusiast #beerofinstagram #beeradvoate #hops
[pw-clippy caption="Copy" suffix="#socialdraft" ]#beer #beers #beerbelly #beer? #beerporn #beergeek #beerlovers #beernerd #beerme #beerbeerbeer #beerlove #beerlife #beerpics #beergram #beertography #craftbeer #socialdraft #beerstagram #beerenthusiast #beerofinstagram #beeradvoate #hops [/pw-clippy]
Best Practices for Beer Hashtags on Instagram
Your potential depletions are waiting. People can follow their favorite brewery, brew shop, and even their favorite brewer. But the only way you are going to get that follow is by being found by those people on Instagram. That won't happen if you don't post on a consistent basis and if you don't use hashtags to be discovered. Let's get down and dirty with your Instagram beer strategy:
Target Your Audience
The hashtags we provided above are great general beer hashtags. They are the building block to your beer hashtag strategy. They will drive eyes from a general audience that loves beer.  However, you're not just pushing beer. You want to reach a general audience to convert them, but say your main sku is a lambic, it will be easier to convert those who already have an interest in lambics and those who know your product.
There is a second aspect to consider. Due to the Instagram feed, if you use a hashtag such as #beer, your content will quickly drop from the feed due to the sheer number of posts using that hashtag (49 million posts as of March 2018).
Here's what you need to do. You need to use those general hashtags to give yourself the chance to be seen by more people, but combine them with other hashtags that will drive targeted audiences. In the case of a Lambic beer, you will want to use hashtags that will drive views from that particular audience as in the example above from CG Beers such as #lambic #lambicbeer and #gueuze. This post would have performed even better with the inclusion of the general beer hashtags above.
Use Geo-Targeted Hashtags
If you are a local brewery, beer shop, restaurant, or even local beer blogger trying to reach a local audience you absolutely need to use geo-targeted hashtags. Instagram is not a social network but a search engine where you need to be found. Let's look at the example above.
Brooklyn Brewery
is now an international brand. However, notice how they include plenty of location hashtags on their posts including #brooklyn #nycbrewed. This gives them a chance to be found by people who are exploring those hashtags. Great strategy if you need to get in the door or if your brand is closely tied to a location.
Use Brand Hashtags
You want to include a hashtag for your brand so that you can be a part of the conversation. I absolutely love how Peroni beer uses not just the #Peroni hashtag but has created the #PeroniStyle hashtag. Let's break down why I love their strategy so much.
By using the #Peroni hashtag, they give themselves to be discovered by those who already love their brand. It also gives them a way to push out their brand as they want it to be seen. What's most impressive here is that there are over 366,613 posts tagged #peroni, but the brand itself has only created 210 posts. Each picture of a Peroni beer is social proof of depletions and brand loyalty. How powerful is that!
The second hashtag #PeroniStyle is used much less (8,322 times), but you know that those people who followed the call to action on their profile are true Peroni enthusiasts. I would encourage Peroni to engage these users so that they can go beyond being enthusiasts to becoming Peroni marketers. These are great examples of branded beer hashtag use.
More Instagram Beer Strategy Tips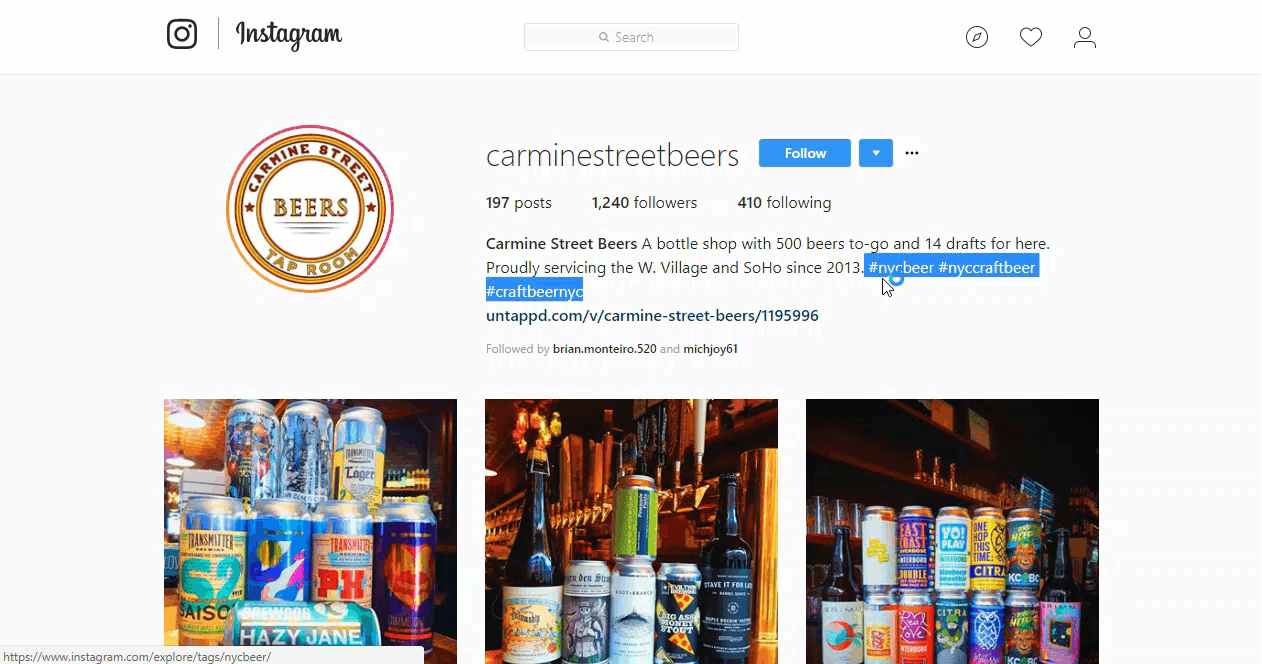 Tag Others
Carmine Beers is my fave wine shop in NYC, they're also very smart about how they use Instagram. Notice that they added hashtags to their profile AND that they tag related brands on their posts. This is a great idea because when you tag someone, they get a notification. This is a great way to build relationships with suppliers, vendors, press and even customers.
Put some love into your account
[fve]https://www.youtube.com/watch?v=D6JjnyZ9V_Y&index=7&list=PLjb-HhxqjqJWSsnurZyrNSg-dqmDhnDSa[/fve]
So…the above is just the bare minimum you need to do to market your beer brand on Instagram. If you want to see an ROI and depletions from your efforts, then you need a fully fleshed out strategy. Let's discuss:
Post Daily: If you don't post daily to Instagram, you won't get engagement and the algorithm will work against you. This means you will lose followers and that you will drop on the feed. You can use an Instagram scheduling tool like Socialdraft (you can see it above) to make sure you don't forget to post.
Like & Engage: Like and comment on posts from those you want to convert. Each like and comment is a link back to your account, a way for people to discover you. It's just like link building on Google, except for Instagram.
If you have questions on this or more, leave us a comment.
How to Manage your Instagram Account
Socialdraft is an all-in-one Social Media Dashboard that helps you manage Instagram. It is the most robust and simple tool for agencies and teams to effectively handle social media. With Socialdraft you can:
Schedule posts to Facebook pages, Twitter, Instagram, LinkedIn Business Pages (and one LinkedIn account) and Pinterest Boards
Schedule posts individually, as recurring posts, or bulk upload them as CSV
Easily re-schedule with a drag & drop action
Schedule GIFs to Facebook and Twitter
Download content calendars as PDF
Keep an eye on your online reputation and easily share the good news to social
Find content on Instagram and easily schedule reposts not just to Instagram but to all other social networks
Engage on Twitter, Facebook, and Linkedin
Download Facebook and Twitter reports
and tons more…
If you are curious about Socialdraft and any of its features, just click this link. If you're ready to take us for your risk-free trial, simply click here to find the perfect plan for you.